Introducing the InofiaSeren Series - Your Path to Ultimate Sleep Comfort!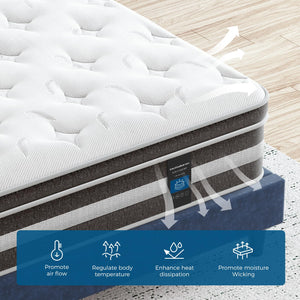 Imagine a sleep place where tranquility and comfort coalesce – that's exactly what the InofiaSeren mattress offers. Prepare for nights filled with unparalleled relaxation and rejuvenation.

Stay Cool, Sleep Soundly: Our engineers have perfected the art of slumber. The InofiaSeren boasts a breathable knit fabric surface, combined with Gel-Memory Foam. This dynamic duo ensures a constant breeze of fresh air and temperature harmony, so you can drift into dreamland undisturbed.

Banish Aches, Embrace Bliss: Bid farewell to morning stiffness and aches. The fusion of pocketed springs and memory foam in the InofiaSeren mattress strikes the ideal equilibrium between unwavering support and pressure relief. As you rest, each coil distributes your weight with precision, while the memory foam lovingly contours to your unique curves.

Sleep Harmony Unleashed: Tired of your partner's nocturnal movements jolting you awake? Enter motion isolation technology – a feature that promises a serene haven for your dreams. Our individually wrapped pocket coils silence any disruptions, granting you a serene sleep space. Plus, enhanced edge support guarantees stability, giving you room to stretch out.

Safety and Durability, Woven In: Your safety is paramount. With CertiPUR-US Certified foam, rest assured your slumber is free from harmful substances. Whether you're a back, side, or stomach sleeper, our medium-firm creation cradles you in blissful comfort.

Seamless Setup, Support Beyond Sleep: Hassle-free delivery and setup are at your fingertips. The InofiaSeren mattress fits seamlessly with various bed bases and frames, and within 48-72 hours, it fully unfurls to its peak comfort. And if questions arise or satisfaction wanes, our dedicated Customer Support Team stands by your side.

Unbeatable Value: Sleep is an investment, and the InofiaSeren Series offers unparalleled returns. Say goodbye to the dilemma of quality versus cost – with InofiaSeren, you get the best of both worlds. InofiaSeren is your cost-effective choice. Get premium sleep at a fraction of in-store prices. Choose this 12 inch mattress and experience sleep like never before.
Join us:
Facebook Page: InofiaUS
Facebook Group: Inofia
YouTube: Inofia Mattress
Pinterest: Inofia
Instagram: inofia_official