Comfortable Foldable Mattress you Need to Have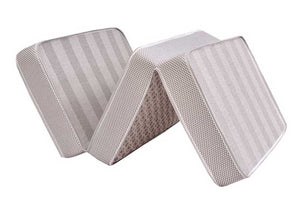 The peoples living in small apartments have problems with space. They can't think of keeping king-size beds in their rooms because of space problems, because by keeping it, it can become congested. That's why foldable mattresses have been designed to provide a solution to this problem.
They are designed in a way that you can easily fold up into tiny packages and are very comfy, warm, and flexible.
Here are given 5 types of comfortable foldable mattresses you can buy:
Portable mattress queen
A queen-size foldable mattress is a very impressive product. This mattress can be folded into a small package by folding it three times and also provides support and comfort.
These features make these mattresses ideal for anyone who likes lots of sleepover guests. This mattress is comfortable as any other regular mattress. Sleeping on it is no different as compared to a general bed.
Rollaway bed mattress
This mattress is made up of two main components. The first is a metal bed frame and the second is foam. The foam is over the metallic frame, in that way that the frame is inside the mattress. It is fitted with a caster, which makes it easy to roll the mattress. Therefore, when you don't need it the mattress can be folded in half and easily rolled and kept in the closet.
Twin folding mattress
Folding mattresses can be folded into a small package that is easy to store and it is also possible to fold the mattress into a couch.
If you have no space for a bed, go for a roll-away bed. At night it can be your bed. During the daytime, it changes into a couch for sitting.
A foldable mattress is the same as a regular mattress in every respect. It is very comfortable also durable.
Rollaway mattress twin
A rollaway mattress is a sleeping pad that can round into a tiny package. The rollaway mattress is very useful if you want to save space. The bed can also be placed in an almirah when not in use. When guests come and need a place to stay, you need only to layout the mattress on the floor.
And when you need to pack it away, you need only fold it in half. When you fold it will become easy to carry. It also can keep inside the boot of a car together with your cozy sleeping bag easily and it is very lightweight also.
Folding bed with Viscoelastic foam mattress
A foldable bed with a mattress made of foam is a perfect piece of furniture. It provides all the luxury of a regular bed with a mattress bonus.
This product is highly durable and the bed is strong enough to handle the huge weight.
Memory foam is famous for its properties. Mattresses made from this material are comfy, warm, and most importantly long-lasting.
Stress shoulders and back are taken away. Hence with such a mattress, you will always have the best sleep experience.