Best Hybrid Mattress to Buy in 2023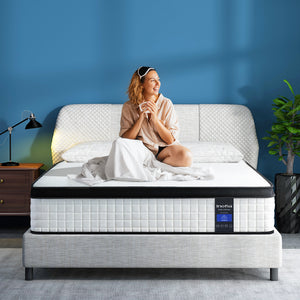 With the advent of technology and people's need for restful sleep, hybrid mattresses have grown in popularity in recent years.
Hybrid mattresses
 combine the benefits of standard spring beds and memory foam mattresses, giving customers more support and comfort.
If you're in the market for a new mattress, the
10&12 Inch Hybrid Mattress
might be worth a look. It's one of the greatest solutions accessible in 2023, because to its combination of comfort, support, and price.
Let's take a closer look at what distinguishes the
Inofia Hybrid Mattress
from the competitors.
1. Comfort
Several layers of foam are employed in the
Inofia Hybrid Mattress
, including a soft and breathable cover, gel-memory foam, and high-density foam. This material mix creates a comfortable sleeping surface that contours to your body and reduces pressure spots.
The cool memory foam is particularly notable since it aids in the regulation of your body temperature as you sleep. As a result, you won't overheat or become too cold during the night, resulting in more comfortable sleep.
2. Support
The pocket coil design on the
Inofia Hybrid Mattress
also provides exceptional support. This system includes individually wrapped coils that conform to the shape and movements of your body, providing targeted support where you need it most.
Furthermore, the high-density foam layer provides additional support and stability to the mattress, preventing sagging and ensuring a long lifespan.
3. Affordability
The
Inofia Mattress
is surprisingly inexpensive, despite its high-quality materials and innovative functions. In fact, it's one of the most budget-friendly options on the market today.
This makes it an excellent alternative for anyone on a low budget looking for a comfy and supportive mattress.
Overall, the
Inofia Hybrid Mattress
is a great option for anyone seeking for a comfortable, supportive, and reasonably priced
mattress in 2023
. It's difficult to beat with its several layers of foam, pocket coil mechanism, and low price point. So why not try it out for yourself and see what a difference a great mattress can make to your sleep quality?