6 Reasons why Folding Mattresses is a Must Buy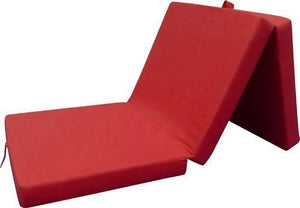 The foldable mattresses are one of the best modernizations in the bedding industry. It is perfect for those who have very limited space at home. Because of its special foldable design, it can easily be kept in the storage room or cupboard when not in use.
These types of mattresses are ideal for guest beds and children for sleepovers.
Here are 6 reasons why these mattresses are a must-buy in today's life:
Compact and space-saving solution.
A folding mattress is a perfect option for homes and apartments with small space to maximize. Getting more space is think as a luxurious lifestyle nowadays. So, a mattress that you can fold into a smaller size is a must to save space.
You can't do this with traditional mattresses. In case you have kids, they can enjoy more space to run and play when the mattress is folded. This is also a great investment for people who don't like having too many things at home.
Perfect for guests and little kids.
A folding mattress is handy for the house where kids love to roll on the floor while playing, drawing, or reading books. This is more comfortable than letting your kids roll on the floor, especially without a carpet. A folding mattress is also safer than leaving them on the bed where the chance of falling is high.
Once your kids are familiar with it they unfold the mattress themselves whenever they want to play. As for the guests, this works great whether you welcome them regularly or not because it doesn't take up permanent space so you can adjust your space for other things also.
Great for sleepovers and travel.
It is the perfect solution for those who have kids and teenagers who love sleepovers the most. Because you can fold it into a small size and also you can fit it into the car easily for sleepovers. It is light in weight and convenient to carry in your car also.
Cheaper compared with regular mattresses.
If you need additional features for pressure relief and more than a regular mattress is a big investment. But buying a foldable mattress can help you save more as long as you go for a high-quality model.
Constructed with different designs.
The foldable mattresses are made in various designs. You can never underestimate a folding mattress because some folding mattresses can be folded into a single or double sofa chair too. This makes them different in compared with other types of mattresses. They can also be used as a low couch in the morning then bed in the evening once they are unfolded.
Guaranteed comfort and support.
Folding mattresses are usually made of foam only that's why they offer a high level of comfort and support. They are available in thicker a version which provides you with more back support.
Conclusion
Overall, a folding mattress is worth investing in whether you have limited space or not at home. It is pocket friendly, provides comfort, handy, and has flexibility.