6 Questions To Ask yourself Before Buying a New Mattress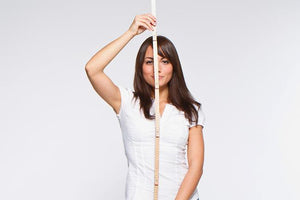 If you're looking to enjoy a good night's sleep, one of the first things to consider is a new mattress. Sleep is incredibly important when it comes to our health and well-being, yet a good night's sleep is something that eludes many of us. If you're not sleeping, everything about life becomes more challenging. Sometimes, all it takes is something as seemingly straightforward as buying a new mattress to resolve your sleep woes. However, buying a new mattress is not simple or straightforward. There are a lot of variables to consider when buying a new mattress, including the size. Knowing which mattress size is right for you can be challenging, so to make life easier, I suggest that you can ask yourself these six questions before purchasing a mattress.
1. How tall are you?
First and foremost, when it comes to buying a mattress, size is most certainly important. People often assume that all mattresses are the same length when in reality they aren't. Some are longer than others, and needless to say, the taller you are, the longer you'll want your mattress to be. But what about those of you that aren't all that tall, or who perhaps don't have very much space in the bedroom? Well, in that case, you might wish to consider opting for a mattress which is slightly shorter in length. That way, you get to save a little space, and as long as nobody taller happens to be sharing the bed with you, you know that you'll still fit comfortably on the bed.

2. Do you sleep alone?
Another very important consideration when buying a mattress is whether or not you happen to sleep alone. If you don't sleep alone and you share a bed with a partner, a single mattress will be out of the picture right away. For people that share a bed, you'll want to look into at least a double, if not a king-size, queen-size, or emperor. When you share a bed with a partner, you don't want to be disrupting them every time you move, nor do you want them to be disrupting you every time they move or roll over either. One of the main reasons why a lot of people struggle to sleep soundly at night is due to the fact that they often find themselves being disrupted by partners when trying to sleep. Memory foam mattresses and hybrids are ideal, as they offer motion isolation features, so if you combine this with a larger mattress, you'll almost certainly find that your sleep improves exponentially.
3. How much space do you have?
In an ideal world, we'd all have large and spacious bedrooms which allowed for the biggest mattresses you could ever imagine. Sadly, we don't live in an ideal world, and for a lot of us, space is something which we are lacking in. You need to take the size of your room into account when buying a mattress, because it needs to be practical. You need plenty of space to move around, so if space is lacking but you can't tolerate a single, how about going for a small double instead?

4.How big is your bed size?
When you buy a new mattress and you aren't sure what size you need, you must ensure that you choose a mattress that is right for your bedframe. If your bedframe was designed to fit a double, you can't go ahead and purchase anything larger than a double, as it just wouldn't fit. It sounds obvious, but you'd be surprised by just how many people overlook this when shopping for a new mattress.

this image source:https://geniebeds.co.za/wp-content/uploads/2018/08/south-african-bed-sizes-1024x549.png
5. How old are you?
We've mentioned height, but how about size in general? The great thing about people is that we come in all shapes and sizes. Some big, and some small. If you're a larger individual you'll likely find that you want a larger mattress, as this will give you more space when laying in bed. On the flip side, if you're more on the petite side, you likely won't need as much space, so you could opt for a small double, or even a single if that's what you like. If you share a bed, again, it's also important to take the size of your partner into consideration.
6. Do you prefer soft or firm?
Okay, this isn't really based around the overall size of the mattress itself, but even so, it's still a very important consideration when it comes to purchasing a mattress. You see, if you prefer a soft mattress, but go ahead and buy a firm one instead, you'll likely find that you aren't comfortable in bed, which means that your sleep will suffer. The same principle is true if you prefer a firm mattress but go with a softer one instead. Once you're happy that you know exactly what size mattress to look for, you can then start looking into mattresses in your preferred size, which are the perfect softness or firmness to your liking.
For more information on purchasing new mattresses, you can visit our
mattress information
page. We currently have a few articles on how to purchase mattresses. It may be helpful to you.