10 Ways You Can Make Your Mattress Last Longer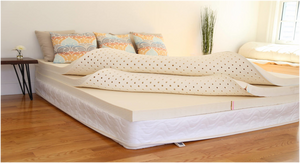 Mattresses are the foremost element behind catching a good night's sleep. They ensure proper ergonomic support for the back, while forming a comfortable surface for watching movies, curling with a book, or even playing with pets. Hence it is no joke that mattresses come with an investment tag. The money spent in buying a mattress can be realized many times over if the mattress is well taken care of. Here are some tips to keep your mattress like new.
Proper support for the mattress: The mattress should be laid on a flat surface such that load transfer happens uniformly and easily. This will prevent needless sagging, bunching or sloping. The mattress will start wearing in equally and will provide superior comfort.
Use a protector: Since the mattress is often subjected to various objects, liquids and even temperature conditions, it makes sense to invest in a mattress protector. Chosen with the right fit and make, it acts as a shield for the layers underneath.
Keep guarded from pets: Pets are often the biggest enemies of mattresses. With their playful leaps and jerks, the paws/ nails dig into the mattress – often clawing through the layers and overall covering. It is best to have separate scratch pads/ mattresses for pets.
Keep bugs away: By making the mattress layers their home, various bugs and mites multiply to create an unhealthy sleeping zone. Invest in regular pest control to keep mattresses bug free and as good as new.
Turn the mattress around: As the sleepers weigh down every night, the material of the mattress begins to settle slightly. Rotating the sides will ensure an equal settling in of the material. This helps create a level, while also ensuring no area of the mattress is ceaselessly worn out.
Maintain hygiene: Liquids and eatables spilling and draining into a mattress can cause discoloration, foul odors and an overall poor sleeping experience. Ensure good hygiene by regular changing of bed linens and covers.
Allow the mattress to breathe: Since mattresses are subjected to dark and humid areas of the bedroom, occasional airing in the sun does wonders. It not only fluffs up the layers from within but also ventilates the inner layers and makes for a pleasant sleeping experience.
Dust and clean with care: Steer clear of sharp objects and abrasives while cleaning the mattress. Keep dry to the extent possible to prevent mold or any fungal growth.
No bouncing!: Both high conditions of stress and strain are inflicted by jumping or bouncing on the mattress. Refrain if you want the mattress to last long.
Carry with care: Always ensure to roll, wrap and transport gently. No accidental drops, tears or rips please!
With the above pointers, now head over to https://www.inofia.com/ for the widest selection of mattresses from the comfort of your home. Browse, customize, order and pay securely. Or even opt for a 100 nights' free trial. Invest in a quality mattress of sleep like never before!